The O'Hara & Hunter Consulting team came together to support the MPPOA Law Enforcement Gala and the two Officers of the Year, Arik Matson and Ryan Priebe. It was the first annual event for the Minnesota Police and Peace Officers Association with a mission to celebrate and support the brave men and women in blue who protect and serve our Minnesota communities.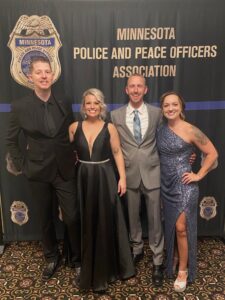 Here at O'Hara & Hunter, we understand the extraordinary times we are living in and believe our support and involvement with our state's peace and police officers association is important. The tireless work of those who wear the badge and protect our communities and the citizens who live there is beyond the normal scope of their duties. We thank them and are proud to champion their efforts.
Since its founding in 1922, the Minnesota Police and Peace Officers Association has grown to be the largest organization, currently representing over 10,000 public safety professionals, who hold an active law enforcement license, in the state. MPPOA members include municipal police officers, county deputy sheriffs, correctional officers, and other public safety professionals in the state of Minnesota. As their website states, the MPPOA "works aggressively on passing laws that support public safety and oppose laws that oppose our profession. The MPPOA is the legislative voice to improve the working conditions and retirement benefits for public safety professionals and their families."
The evening featured Channel 5 Eyewitness News, Jonathan Yuhas as the event emcee. Yuhas is a former Edina Police Reserve Officer of many years. There was a reception and dinner, with words from guest speaker, Michelle Tafoya, Sunday Night Football sideline reporter and National Broadcaster, on Why public safety should be the focus of any civil society. The special evening also featured the 2020 and 2021 Officers of the Year, Arik Matson and Ryan Priebe, respectively.
Now, more than ever, it's imperative we support Minnesota law enforcement and help make a difference in the future of public safety here at home. We salute those who wear the badge and risk their lives each day to protect our communities.